Normally, this would be known as Taco Bell Tuesday. But since Lilly's hubby was off work today, we're post-poning our Tuesday play date to Thursday. And since we're all trying to lose some baby weight, we won't be eating Taco Bell. Boo! I know, I'm bummed too.
So anyways, my girl
Laura
has been participating in
Top 2 Tuesdays
for awhile now and I thought I'd join in on the fun!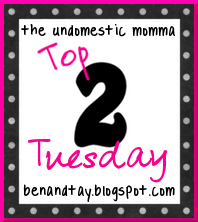 This week's topic is Beauty Secrets! So here we go...
#1 Aveeno Skin Relief Moisturizer
I know this may seem like just plain old lotion, but after spending a small fortune on any and every body lotion on the market, this one quickly became my favorite. Other lotions I had tried made me feel greasy or sticky. This one absorbs quickly and keeps you feeling moisturized all day long! Also I appreciate that it doesn't have that stinky "I'm supposed to smell good but I don't" scent to it. It has a nice, fresh non-scent (if that makes sense). Well worth the $7 price tag!
#2 TRESemme 24 Hr Body Foaming Mousse
Apparently I missed out on the good hair genes and inherited some majorly fine hair. There's lots of it...but its super fine. So products like the above come in quite handy, especially when I'm growing these lifeless locks out to please the hubster. ;) I decided to pick up this mousse a week or ago and it has not let me down...literally! Most mousses give me volume when I style it and 20 min after being outside and its flat again. Not with this one! I feel like it looks good all day long! This just validates my love for its sister product, the Extra Hold Hairspray. TRESemme, you hold my heart. I mean hair.